Chlorzoxazone Tablet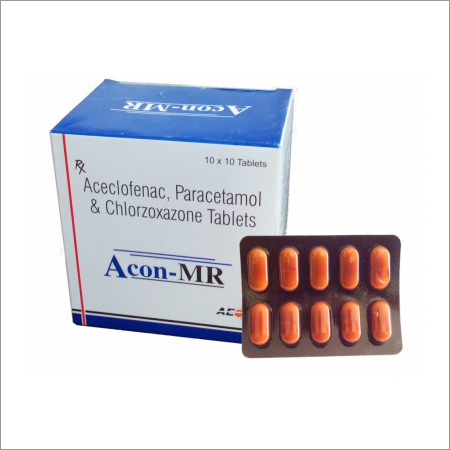 Chlorzoxazone Tablet
Price And Quantity
Product Specifications
Specific Drug

ACECLOFENAC 100MG+PARACETAMOL 325MG+CHLOROZOXAZONE 250MG
Tablets

As directed by Physician
Product Description
What is Aceclofenac for:
It is prescribed for fever, pain and arthritis
How does Aceclofenac work:
It is a nonsteroidal anti-inflammatory drug (NSAID), that blocks the action of a substance in the body (cyclo-oxygenase), which may cause pain and swelling
How should Aceclofenac be used:
To gain the most benefit, take the medicine daily or as prescribed by your doctor. It is usually taken twice a day. Take it with food.
Common side effects of Aceclofenac :
Indigestion, heartburn, dyspepsia, diarrhoea, nausea, abdominal pain and flatulence.
What do I do if I miss a dose
Take a missed dose as soon as you think about it. If it is close to the time for your next dose, skip the missed dose and go back to your normal time. Many times this drug is taken on an as needed basis.
What precautions should I take when taking Aceclofenac :
Inform your doctor is you suffer from history of peptic ulceration, cerebrovascular bleeding, ulcerative colitis, crohns disease, systemic lupus erythmatosus, porphyria, haematopoietic or coagulation disorders. The dose will be adjusted in people with hepatic, renal or cardiac function impairment.
When do I need to seek medical help
Do not take the drug if you had an allergic reaction to the medication in the past. Stop taking this drug and seek emergency medical attention if you experience an allergic reaction (difficulty breathing; rash; wheezing; itching; closing of your throat; swelling of your lips, tongue, or face; or hives).
Can I take Aceclofenac with other medicines:
Inform you doctor is you are taking lithium, digoxin, diuretics or ACE inhibitors. Be sure to talk to your doctor about all the drugs you take.
Are there any food restrictions
Avoid Alcohol
How do I store Aceclofenac :
Store in a cool, dry place away from the reach of children. - Medicines must not be used past the expiry date.
Pregnancy Category
Category N : Not yet classified.
Therapeutic Classification
Nonsteroidal Anti-Inflammatory Drugs (NSAIDs), Non-Opioid Analgesics & Antipyretics
Contact Us
133, Circular Road, Model Town, Ambala City, Ambala, Haryana, 134003, India
Phone :+918045800829