CINNARIZINE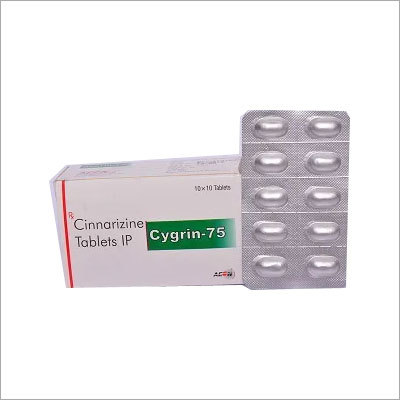 CINNARIZINE
Price And Quantity
Product Specifications
Product Description
What is Cinnarizine for:
This medication is an antihistamine, prescribed for the control of nausea and vomiting due to motion sickness. It is also used for vertigo and brain disorder. It blocks the histamine action, which reduces allergy symptoms.
How does Cinnarizine work:
Treats Vertigo, tinnitus, Meniere disease, loss of memory, motion sickness, cerebrovascular and peripheral vascular disorders.
How should Cinnarizine be used:
Adults: The recommended dose is 25 to 75mg per day in divided doses. It comes as a tablet to take by mouth, with food.
Common side effects of Cinnarizine :
Sedation, G.I. upset, rash, drowsiness.
What do I do if I miss a dose
Usually taken on needed basis.
What precautions should I take when taking Cinnarizine :
Tell your doctor if you are allergic to any drugs. Make sure to tell about the allergy and what signs you had. This includes telling about rash; hives; itching; shortness of breath; wheezing; cough; swelling of face, lips, tongue, or throat; or any other signs.
When do I need to seek medical help
If you think there was an overdose, call your local poison control center or ER right away. Signs of a very bad reaction to the drug. These include wheezing; chest tightness; fever; itching; bad cough; blue or gray skin color; seizures; or swelling of face, lips, tongue, or throat. Very bad dizziness or passing out. Change in thinking clearly and with logic. Any bruising or bleeding. Any rash. Side effect or health problem is not better or you are feeling worse.
Can I take Cinnarizine with other medicines:
Sometimes drugs are not safe when you take them with certain other drugs and food. - Taking them together can cause bad side effects. - Be sure to talk to your doctor about all the drugs you take.
Are there any food restrictions
Avoid Alcohol
How do I store Cinnarizine :
Store it at room temperature (25C).
Pregnancy Category
Category C : Animal reproduction studies have shown an adverse effect on the fetus and there are no adequate and well-controlled studies in humans, but potential benefits may warrant use of the drug in pregnant women despite potential risks.
Therapeutic Classification
Antihistamines & Antiallergics, Antivertigo Drugs, Antivertigo Drugs
Contact Us
133, Circular Road, Model Town, Ambala City, Ambala, Haryana, 134003, India
Phone :+918045800829