Paracetamol Tablet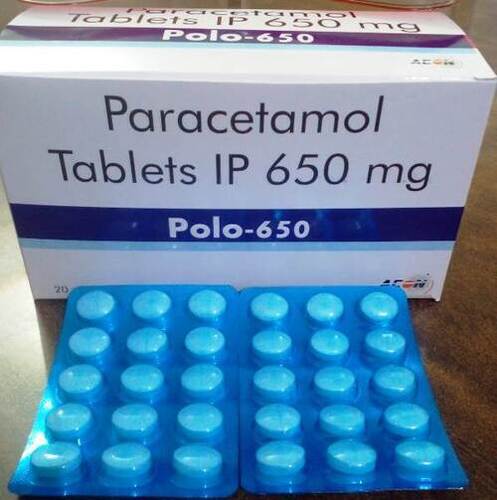 Paracetamol Tablet
Price And Quantity
Product Specifications
Specific Drug

PARACETAMOL 650MG TABLETS
Tablets

as directed by physician
Product Description
What is Paracetamol for:
It is used to used to relieve mild to moderate pain and to reduce fever.


How does Paracetamol work:
Paracetamol blocks chemicals that cause pain. It lowers fever by changing the body thermostat in the brain.


How should Paracetamol be used:
Take this as directed by your doctor. Do not take more than instructed by your doctor. Never take more than 1000 mg at any one time and no more than 4 times in one day. The dose for a child is different from the adult dose. Be sure to check with your doctor or pharmacist before giving this medicine to a child. It may be taken with or without food. If you need pain relief fast, take it on an empty stomach as food may slow down the absorption. You may stop taking it when you have no more pain or fever. Take it only when you need to.


Common side effects of Paracetamol :
Upset stomach or throwing up. Harm to the liver may rarely happen.


What do I do if I miss a dose
Many times this drug is taken on an as needed basis.


What precautions should I take when taking Paracetamol :
Do not take this drug if you had an allergy to this or similar drugs in the past. Do not take it if you have liver or kidney failure.


When do I need to seek medical help
Seek help if you are having an allergic reaction to the drug. Signs include rash, difficulty breathing, swelling of the lips, face, tongue; or hives. Symptoms of an overdose may include nausea; vomiting; loss of appetite; sweating; extreme tiredness; unusual bleeding or bruising; pain in the stomach; yellowing of the skin. Contact an emergency centre immediately if you suspect overdose.


Can I take Paracetamol with other medicines:
Alert your doctor if you are taking blood-thinning medicines such as warfarin.


Are there any food restrictions
Avoid Alcohol


How do I store Paracetamol :
Store in a cool, dry place away from the reach of children. - Medicines must not be used past the expiry date.


Pregnancy Category
Category B : Animal reproduction studies have failed to demonstrate a risk to the fetus and there are no adequate and well-controlled studies in pregnant women OR Animal studies have shown an adverse effect, but adequate and well-controlled studies in pregnant women have failed to demonstrate a risk to the fetus in any trimester.


Therapeutic Classification
Non-Opioid Analgesics & Antipyretics
Contact Us
133, Circular Road, Model Town, Ambala City, Ambala, Haryana, 134003, India
Phone :+918045800829